IS Attack On Coal Miners Of Shia Hazara Community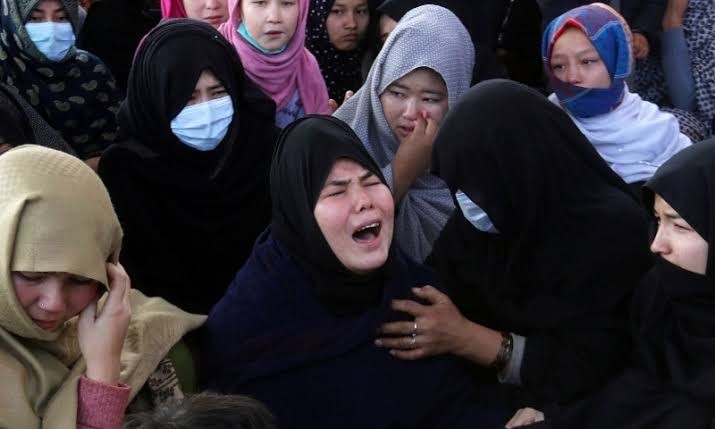 Thousands mourn Hazara coal miners killed in Balochistan
On the 3rd of January, 2021 Saturday night a group of coal miners was attacked by armed militants Islamic State group, in an area called Mach near to provincial capital Quetta, Balochistan. They kidnapped them, blindfolded and tied up their hands against their backs, before their throat slit. 6 minors were killed at the spot while the remaining 5 were brutally wounded and died on their way to the hospital, stated by Moazzam Ali Jatoi, an official with the Levies Force.
This killing attack was an accepted group of extremists, against the Shia Hazara Community.
Prime Minister of Pakistan, Imran khan condemned this killing of miners and called it "yet another cowardly Inhumane act of terrorism".

He said in his tweet " Have asked the FC to use all the resources to apprehend these killers bring them to justice. The families of the victims will not be left abandoned by the government".
PM Imran Khan Saying on Twitter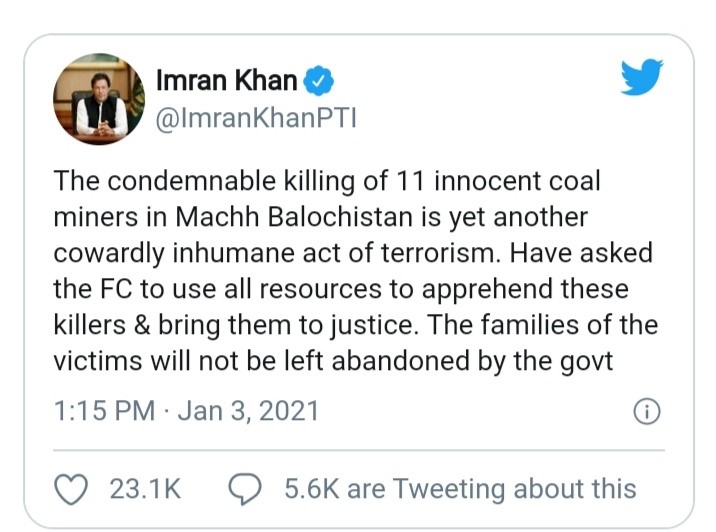 Interior Minister Sheikh Rasheed Ahmed condemned the killings and also asked the General Inspector of police, Balochistan to submit a detailed report of this incident.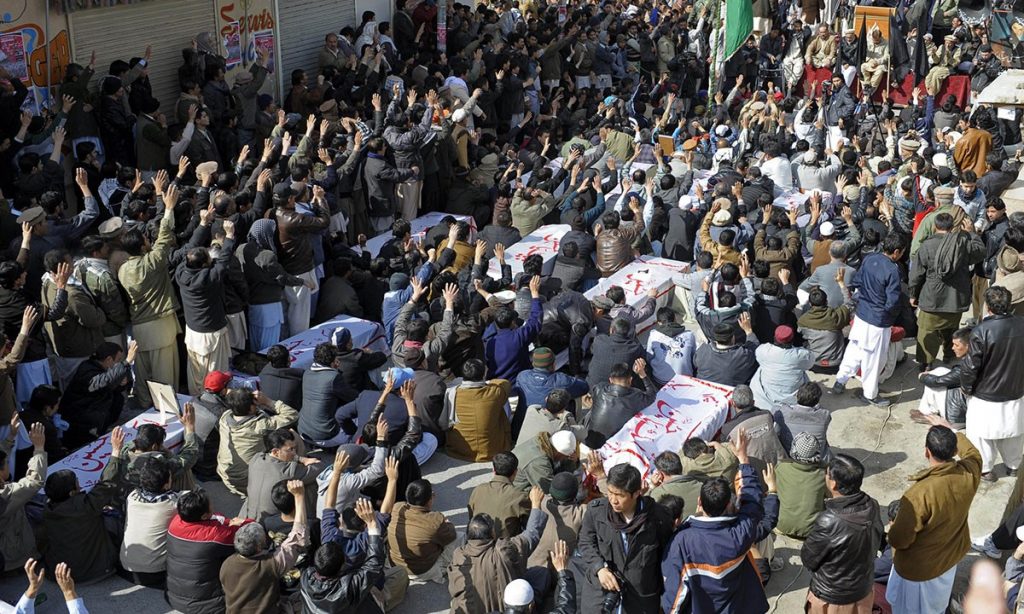 Hazara community started protesting along with coffins of miner's dead bodies in the western bypass area Quetta, while their community members also started protests in Karachi.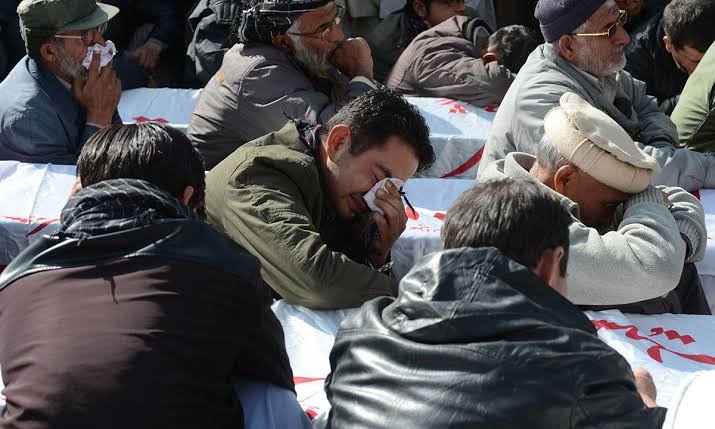 Hundreds sit beside the coffins during a protest in Quetta
They kept protesting in extremely harsh weather as the mercury drops to the freezing point along with their women and children, demanding a visit of Prime Minister Pakistan Imran Khan and, the killers were brought to justice.
On 7th January 2021, opposing leaders Maryam Nawaz Bhutto and Bilawal Zardari Bhutto visited and met to Shia Hazara community, they appealed to them to bury their loved ones and to not wait for an intensive and heartless man ( Imran Khan).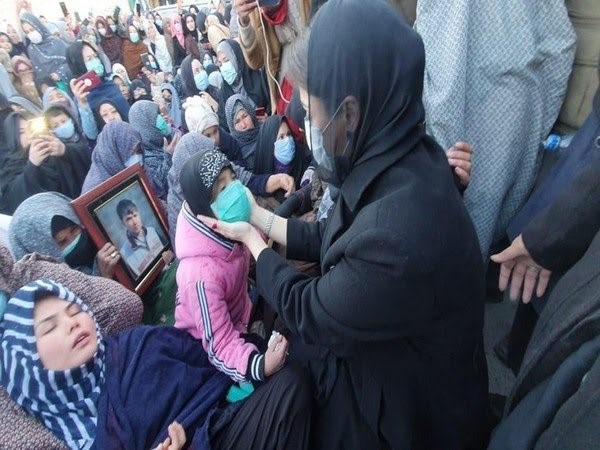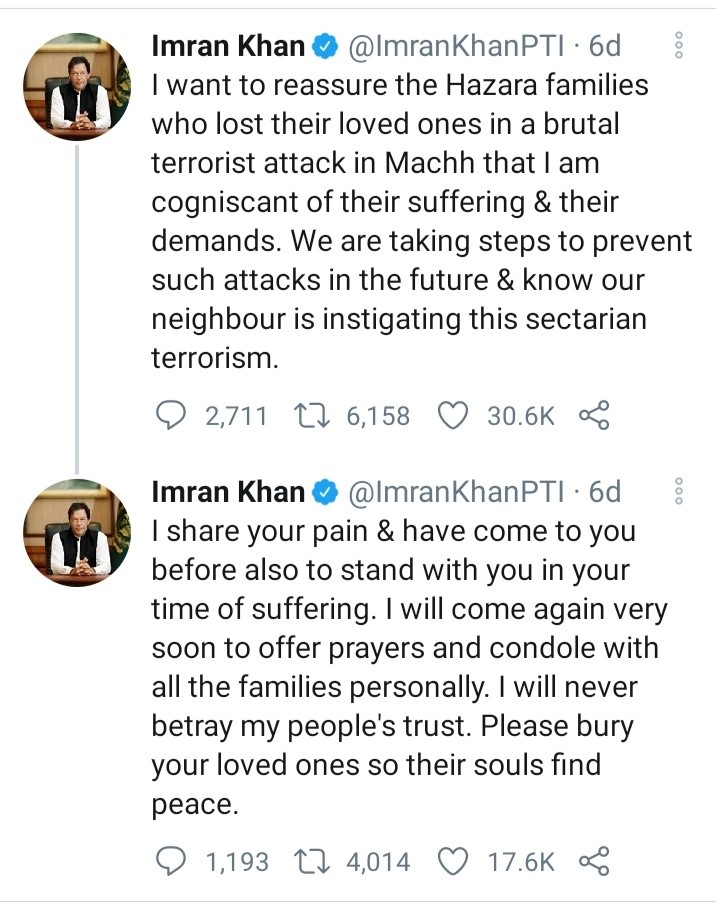 Imran Khan assured the Shia Hazara community of his visit and said that he was well aware of their sufferings, also added that the government would take serious action to prevent such actions in the future. And he said that " our neighbor is instigating this sectarian terrorism".

After this assurance of PM Imran Khan's visit, dialogue between protesters and the government's spokesman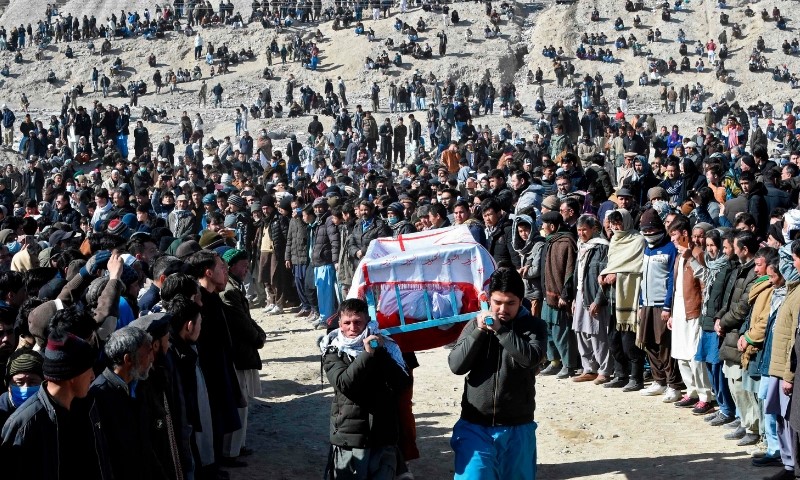 got succeeded, and they announced to end the protest and buried their loved ones on the 7th day after the attack, 9th January 2021.
They were laid at rest in Hazara Town Cemetery of Quetta, on Saturday.
Government authority members like Federal Maritime Ali Zaidi, National Assembly Deputy Speaker Qasim Shah, Special Assistant to the Prime Minister Zulfi Bukhari, Provincial Home Minister Mir Zia Langove, and other, provincial ministers, and civil society leaders were also present at that time of burials.
Prime Minister Imran Khan reached Quetta on Saturday 13th Jan 2021, to meet the families of slain coal miners, killed on 3rd January in a brutal attack in Mach, QuEtta.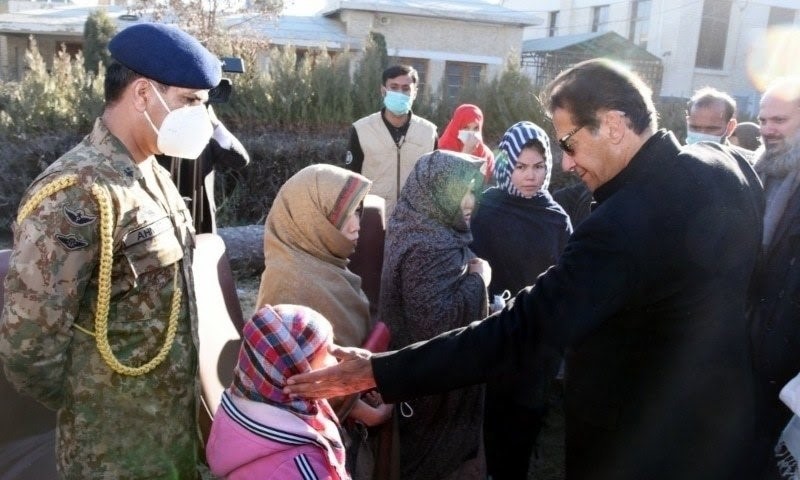 ( Imran Khan visiting Hazara Community Families)
He met and discussed with families and answered the questions asked by them, as shown in a video released by PM's office. We could a woman in this video telling him that he should have visited them and share their grief which could have touched the heart of millions of people, he said in response that " I sent the chief minister and federal minister just to take care of you".
Imran Khan further said that he would appoint special forces to protect Hazaras.
A meeting was held in the presence of PM and all other provincial authorities, a briefing was given on the security issues and discussed all the possible aspects to provide security to Hazara Community and to protect them from such brutal attacks in future.