Impacts Of The COVID-19 Pandemic On Sports
Overview:
After World War ll, it's the first time in sports calendar history to have such significant disruption worldwide due to Covid-19 pandemic, starting from December 2019 to till the date 2021 and still ongoing.
                  No doubt, the year 2020 will be commemorated or memorized for the arrival of the novel Coronavirus, as said by The International Sports Law Journal, 1-5,2020. It will not be fallacious to say that Covid-19 has affected and also affecting almost every individual and every aspect of society. Now the situation is improving as the government, organizations, and individuals are taking precautions and performing strategies to deal with this prolonged pandemic span. Dealing with tremendous challenges and taking precautions against Covid-19 spread, massive "shut down" in the whole world countries.The pandemic combating strategies and aftereffects brought severe trials and also revealed all the weaknesses of pre-existing systems. Sports and all other physical activities suffered a lot and outdoor activities were completely banned due to social and physical distancing measures as given by WHO
(World Of Health Organization).
Many policies were given during the mid of this virus spread to deal with all the challenges which provided recommendations for the UN system Government and other stakeholders to support and safe reopening of the sporting events, and at the same time to support physical activity during this long-term pandemic period.
Cancellation of Sporting Events due To Covid-19: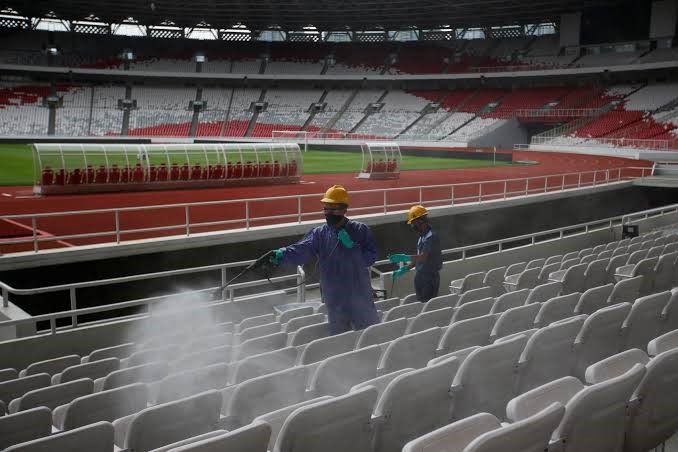 Other sports including rugby, cricket, skiing, sailing, weightlifting to wrestling, from marathon to basketball games, from football tournaments to athletic championships, handball to ice hockey, and more.
Globally Sports Revenue Got Affected:
Globally, the value of the worldwide sports industry is US$ 756 billion annually as given by the department of economic and social affairs of the United Nations. Due to the Covid-19 pandemic, millions of jobs are at risks not just of sports professionals but also of those having related industries such as sporting services industries connected with leagues and events, maybe of traveling, tourism, transportation, infrastructure catering, media broadcasting, and many others are all affected by this prolonged pandemic period.
Restricted Physical Activity Due to Covid-19:
Due to the Covid-19 outbreak, the closure of all the physical activity centers like gyms physiotherapy centers, playgrounds, parks, stadiums, pools, and fitness studios resulted. The WHO recommends 75 minutes of vigorous activity and 150 minutes of moderate-intensity. Exercise and physical activity help especially through fear, anxiety, and crises. So these concerns in the context of this pandemic restricted physical activity, lack of sports activities or exercise routines get affected, and this will result in risks to the immune system, physical health, and thus further leading to the commencement of many other ailments.
Conclusion:
Now after one complete year of Covid-19 sufferings, sports around the world begin their journey back to training, back to play, and return to competition following all the protocols to reduce the risk of covid-19 spread as much as possible. This rescheduled back to work routine requires full implementation of all the preventive measures as governed and suggested by WHO and other sports and health organizations.